If the world would dance together…
Aug 16, 2023. By Lori Brewer Collins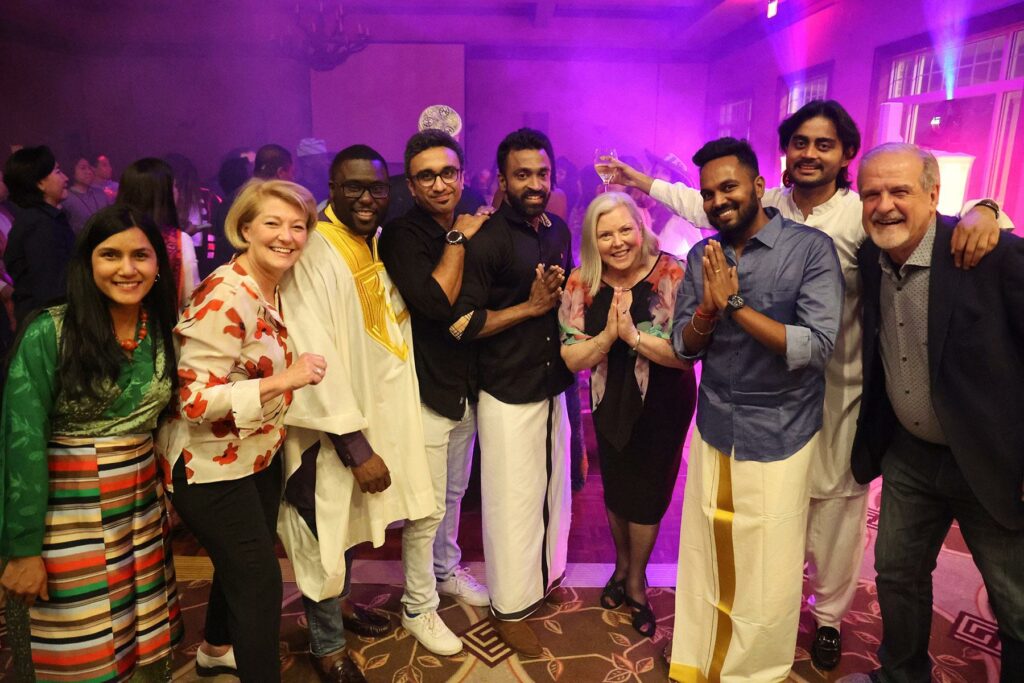 I just finished a leadership development event in Washington DC that turned out to be one of the coolest examples of cross-cultural diversity and global citizenship I've ever experienced.
At this multinational gathering, I was one of the very few native English speakers. The participants, members of my client's entire global HR team, had come to Virginia from five continents (Africa, Asia, Europe, North and South America) for a three-day offsite.
On the first morning, the energy was high, in spite of serious jet lag for some of the participants. It was clear everyone was excited to be in the session and serious about furthering their development. That's not to say fun wasn't also part of the agenda: the event's Organizing Committee had invited everyone to come to a dance party on our last night together in their national dress.
When I arrived at the party, the room was filled with colorful native clothing—from Albania, China, Japan, Mongolia, Russia, Ukraine, Kyrgyzstan, multiple African countries, central/south/eastern Europe, South America—along with a bit of bling from North America. The DJ was playing world music (brilliantly, I might add). People spontaneously started to dance. They all brought their different styles—Bollywood and salsa, tango and the polyrhythmic dances of Africa—to the floor.
I got invited into the dance circle to celebrate with these gorgeous humans. I don't generally dance publicly with clients, but this was clearly an opportunity not to be missed! ("When in Rome…".) So, I joined these truly global citizens and danced! I even got an impromptu lesson in Bollywood dance sequences from several of the men from India.
The air was luminous; the joy, palpable. People were having fun and laughing, deeply appreciating their lovely differences and the commonality found in dancing together. As they taught each other their native dances, they were creating something unique: a cross-culture ethos that delighted in genuine diversity.
The simplicity of just holding this dance party and the synergy it created throughout the whole group was inspirational. The spirit of the dance, a spirit of appreciation for each tribe, each country and each continent, was contagious.
The next day, an overall buzz of positivity filled the air. The barriers to authentic communication between the team members had been lowered. Person-to-person connections multiplied and there was more creativity and generosity demonstrated between people. Our goal of generating a greater sense of "One Team" had definitely been advanced.
The upside potential of diversity can be high; the downside risk, steep. We often point the finger of blame at "culture" before we point to anything else, even when it's not relevant.
Yet no one on this team was pointing out a downside to their culture, or anyone else's. They liked their diversity. They celebrated it. Indeed, they saw it as a fundamental part of their team identity.
In the U.S. right now, diversity is primarily perceived through the lens of race, nationality, gender identity and sexual orientation. Diversity, equity and inclusion training and coaching dominate corporate environments. The focus seems to be on pointing out deficiencies and identifying what is "wrong" and must be "fixed". And these filters are legitimate. But they're not the ones used consistently around the world. In fact, I've found American-centric DEI filters don't apply to a cross-cultural group like the participants in the dance party or to most places outside the United States.
Perhaps that is because almost every group I work with outside America already exhibits a wide variety of skin tones, accents and backgrounds. I'm often the only native English speaker in the room. These clearly non-homogeneous groups work because the majority of members are naturally curious and open to a multiplicity of ideas, traditions and philosophies. They tolerate—even look to leverage—inherent differences because they know biases and judgments only block collaboration, innovation and growth.
As Pádraig Ó Tuama, Irish poet and conflict mediator, says, "We need ways of navigating our differences that deepen our curiosity, deepen our friendship, deepen our capacity to disagree, deepen the argument of being alive. This is what we need. This is what will save us."
My recent experience of bringing together a very diverse group of people from across five continents has given me a glimmer of hope. We can intentionally create the right conditions for civil discourse and collaborative problem-solving. We can create a more inclusive, happier world. And it starts with something as simple as dancing together.