LORI ON LEADERSHIP PODCAST • Episode #3 - August 9, 2023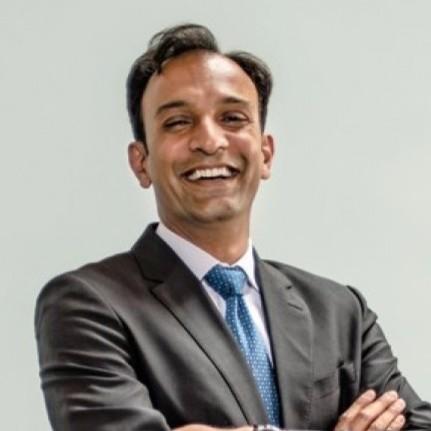 On The Human Side of Technology
DJ didn't try to follow in his father's footsteps, but he did.
"The system didn't quite work for us, but we ended up in good places." That's how Dr. DJ Patil describes himself and his father, Dr. Suhas Patil, when I interviewed DJ on my podcast, Lori on Leadership. Dr. Patil Sr. had only $8 in his pocket when he arrived from India to study at MIT in the 1960s. Today, he is known as the founder of Cirrus Logic, renowned for his pioneering work in integrated circuits, and recognized as one of the grandfathers of Silicon Valley.
"Isn't it more powerful to use the beauty of technology to help others? If it's not about the people first, then what's the point?"
The younger Patil, growing up in the tight-knit agricultural community of Cupertino California that supported Moffat Field during the post-Vietnam era, got in trouble during high school and almost didn't graduate (don't ask him about the stink bomb). Calculus class in community college presented him with a "fork in the road": either commit to learning or quit. He sat down in the city library, checked out all the math books he could find and, in three days, taught himself math. That's when he discovered two things: his love of the subject, and the value of just doing the work. In 2001, he obtained a Ph.D. in applied mathematics, specializing in chaos theory, from the University of Maryland and hasn't looked back.
DJ has essentially used the beauty of mathematics to come to the aid of others.
He learned from his father: "When you're working on things, focus on intellectual honesty." And so he literally works with teams to solve problems that can cause domino effects to "make the world a better place for our kids and our kid's kids." Not just your everyday stupid, boring problems. (You should know his research has focused on nonlinear dynamics and chaos theory.) No, DJ gravitates to Massively Multi-Interdisciplinary Problems (MMIPs), challenges that can have a significant impact on society and our world which require a deep understanding of myriad major areas of expertise, like helping lead California's pandemic response. To this day, he continues to divide his energy between public policy work, building companies, investing, and academia.
Key Contributions
POLICY WORK • You may have seen DJ's work mentioned in Michael Lewis's books The Fifth Risk: Undoing Democracy or The Premonition: A Pandemic Story. President Obama appointed DJ to be the very first U.S. Chief Data Scientist. For all his activities in national security, Secretary of Defense Carter awarded him the Department's Medal for Distinguished Public Service. The Biden-Harris Transition asked DJ to be CTO and lead recruiting and the development of technology-related public policy.
BUILDING GAME-CHANGING COMPANIES • As the former Chief Scientist and Chief Security Officer at LinkedIn, he helped introduce new technologies like Kafka and co-coined the term "data scientist". (See his seminal Harvard Business Review article, "Data Scientist: the Sexiest Job of the 21st Century".) He has also held a number of roles at Skype, PayPal, and eBay.
As a member of the founding team at Devoted Health, DJ helped co-founders Todd and Ed Park think about what it would take to successfully build a healthcare system that would really take care of people "like we would want our loved ones to be taken care of". DJ and the Park brothers built an entirely new technological approach that bypassed our current, antiquated healthcare systems. They did this, not to replace people, but to augment them and make them unbelievably efficient and effective at delivering, paying for, and controlling access to healthcare. Their "prime directive", which is taught to Devoted staff during their cultural onboarding, is to: "Close your eyes when you're not sure what to do and imagine it's your loved one. Then go do that (after you check with legal and compliance to make sure it's allowed in this regulatory space)."
Additionally, DJ led the product teams at RelateIQ, which was acquired by Salesforce, and was founding board member for Crisis Text Line, which uses new technologies to provide on-demand mental and crisis support. During the pandemic, he stepped in as CTO for Peoplehood, a platform for connecting people in guided group conversations to address loneliness and build community, with founders Julie Rice and Elizabeth Cutler (former co-founders of SoulCycle).
INVESTING • As a general partner at venture capital firm GreatPoint Ventures, DJ leverages advances in computation, data, and artificial intelligence as he partners with bold founders building companies in healthcare, enterprise technologies, and national security.
ACADEMIA • DJ makes his mark as a: Senior Fellow at Harvard Kennedy School (Belfer Center), a member of the Defense Science Board and a member of the Board of Visitors at National Defense University; and as a member of the faculty at the University of Maryland.
People who have worked with DJ remark on "The Notecard", his practical framework for impact and agility. In everything he does, he asks, "How can we maximally have impact at this time?"
When I talked with him recently, he shared the key rubrics and insights of his "note card" system, along with some personal tips for pioneering leaders.
DJ Patil's Note Card System
Dream in years, plan in months, evaluate in weeks, ship daily. Use this as a forcing function to make sure something actually happens. Be honest about what the dream could be, what it will take to get there, how things are going, and what needs to be done.
Prototype for 1X, build for 10X, engineer for 100x. People often try to engineer something grandiose, when they should start building something smaller. Test and try things, then scale.
What can we do to double the impact and cut the time in half? Use this to get clear of linear thinking and spark a different kind of creativity.
Don't let the urgent get in the way of the important. This lesson, which is from his days working with President Obama, is the basis of DJ's own "notecard" system for organizing his time. Each day, answer the following 5 questions. When a crisis occurs, reprioritize everything on the fly.

What is your mission statement (a.k.a. your "True North")?
What is important for today? (i.e., the big ticket items)
What is important for this week?
What key strategic things from all your various projects need to get done today?
What problem can you solve for someone else? (This last one will pull you into conversations that can catapult you into different arenas.)
Key Takeaways on Getting Started
"I" to the superpower "we". If you don't have the right team, then wait until you do. Never work alone, unless you absolutely have to…and then it's only until you can get someone on board. As they say, if you want to go fast, go alone. If you want to go far, go together.
Show up. If you're trying to transform something, you have to be there in the trenches with everybody. By showing up, you gain credibility.
Do you want to be a big fish in a little pond or a little fish in a big pond? If you have a really good idea, it's better sometimes to jump on a collective movement because some things are so hard that you just have to be around the best.
Focus on solving problems like a soccer team. There is no quarterback. Surround yourself with people who are better than you. Only care about who has the ball and how everyone can best support that person.
Be the catalyst. Build a workplace where people can be the best version of themselves and be maximally valued. Empower them to do the job they want to do.
Put in the hours for yourself. You don't get back the time you put in for others to make things better for people. You have to also put in the hours for yourself to have clarity.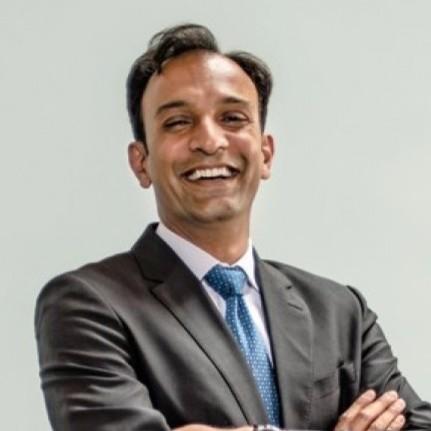 MORE RELATED TO THE GUEST


DJ Patil